What's the one thing your business must do right to succeed? It must sell. If your sales team consistently performs well, you'll outlast the competition and become an industry leader. But driving sales performance isn't easy. The trick is having the right tools and techniques. Configure, price and quote (CPQ) software can help you take your sales team's performance to the next level quickly, efficiently, and cost-effectively – without overloading operations.
CPQ software isn't new. It's been around in the B2B market space for a while. But advances in technology have boosted its ability to enhance sales teams to beat new challenges. Gartner, the IT research and advisory firm, estimates CPQ revenues in 2018 at $1.2 billion (USD), with almost all the growth related to cloud-based offerings. It projects the CPQ market to increase 15% annually through 2020.
Benefits of Configure, Price, and Quote Software
CPQ software provides numerous benefits that can help you beat the competition. CPQ software can: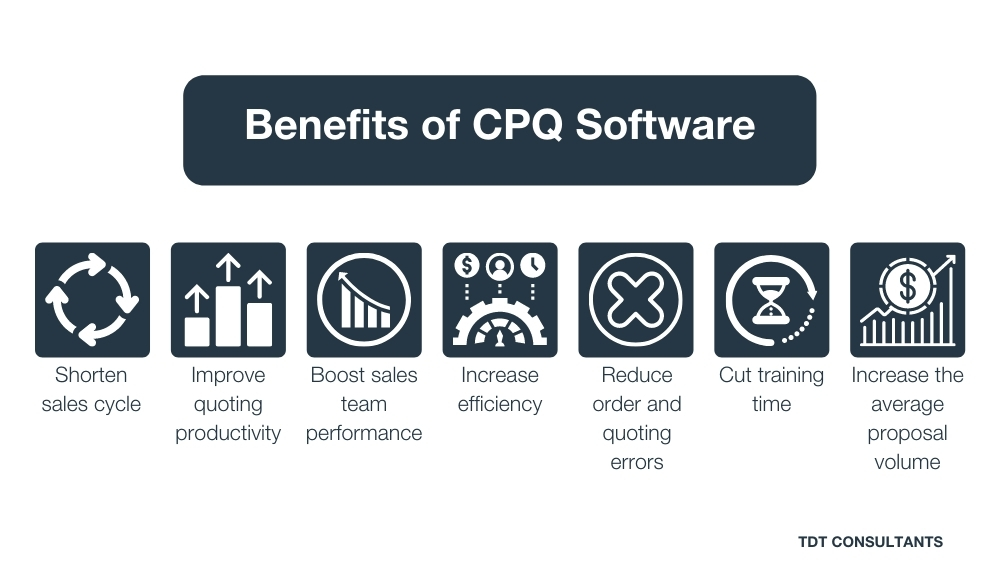 For the sales team, CPQ software eliminates the frustration and aggravation of creating proposals. Plus, your team no longer needs to memorize hundreds or even thousands of product configurations and options.
CPQ software leverages technology and automation to produce timely and highly specialized quotes when you need them most. The software takes the legwork and guesswork of quote development and lets you tailor quotes to each prospect or customer's needs. As a result, your sales team sells faster, more effectively and at a greater capacity. This software is ideal for B2B companies that feature complex, configurable products and services, and the more complex your quote in general, the more impact a CPQ system can have on your sales team's performance.
The most critical component of CPQ software is the configurator. Essential features of a configurator include guided selling and pricing, an easy-to-use user interface and a cost calculator. Additional features include workflow approval, eCommerce, quotes and a self-service portal. These features speed up the sales process and help boost profits.
CPQ Software in Action
 A noteworthy CPQ software application spearheaded by us shows the power of CPQ software to increase sales volumes and empower B2B firms. The company is an international provider of carrier-grade antennas and enclosure protection solutions for electronics. It supports 24/7 operations and projects from the most prominent players in the global IoT and M2M industries.
Initially, the company enlisted TDT's help in modernizing its IT and ERP systems. But we saw an opportunity to update IT and ERP and enhance the company's sales process by improving its website's front end. Here was a chance for us to deploy a self-serve CPQ platform that would allow clients to build their own customized made-to-order enclosures and place requests for quotations all in one place.
We redesigned and built a modernized, fully integrated, Odoo-based ERP system with a CPQ software element. The platform facilitates 360 communication with clients, automates data reconciliation among sales, accounting and manufacturing, and simplifies the complex and laborious task of servicing prospects and customers from several hours to minutes, among other things.
Simplifies and Streamlines Sales and Quote Process
This CPQ software platform's simple structure and improved user experience allowed prospects and customers to navigate the quotation process easily without any prior knowledge or training. The platform also allows customers and prospects to self-serve when building custom enclosures with a full compatibility check performed in real-time. That eliminated the need for customers to have complicated, costly and error-prone interactions with the company's sales team, boosting customer service. Now the sales team can focus on improving the customer experience instead of generating PDFs, validating the customer requirements and in general wasting time in non-value-added activities.
The results of this effort were impressive. In less than a year, the company doubled its inquiry volume while boosting revenues and profits and has had near-universal acclaim by its customers for the ease of use with which they configure and deal with their requirements. And since the process was fully automated, the company didn't overload operations. Plus, it stayed lean while significantly increasing scaling capabilities. Today, this company is an industry leader with help from the Configure, Price, and Quote software developed by us – a solution that helped this B2B company performance from that of an average player in the marketplace to that of an industry leader.
Want to shorten your sales cycle, increase profits, and boost sales team efficiency and productivity? Contact us to schedule a free two-hour assessment session. We'll show you how a Configure, Price, and Quote software platform can quickly and cost-effectively take your company's performance to the next level.